To celebrate the publication of the amazing book "Locked in Time" by award-winning palaeontologist Dean Lomax with illustrations by renowned palaeoartist Bob Nicholls, Everything Dinosaur is giving you the chance to win a copy in our free to enter Facebook competition.
Please note this competition has now closed.
We even created a short YouTube video briefly reviewing the book and explaining how you can enter our contest.
Visit the website of Dr Dean Lomax: British Palaeontologist Dr Dean Lomax.
A Fabulous New Book Describing Behaviour Inferred from Fossils
Let's give the book its full title – "Locked in Time – Animal Behaviour Unearthed in 50 Extraordinary Fossils", it has taken Dr Dean Lomax ten years to research and write. He has teamed up with Bob Nicholls a well-known, British palaeoartist who has used his extensive knowledge of the living world to vividly reproduce moments captured in deep, geological time by the fossil discoveries.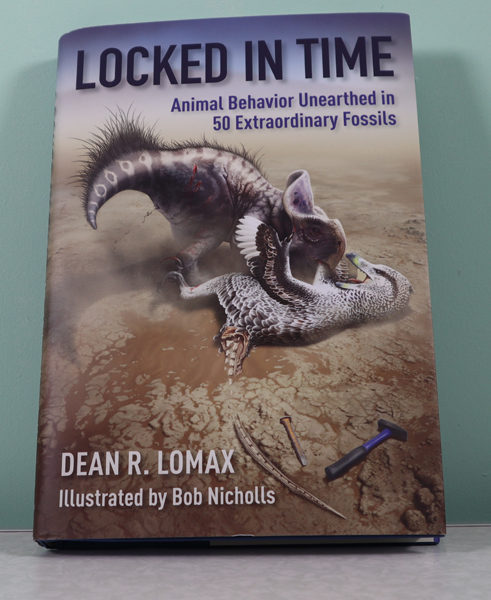 Visit Everything Dinosaur's website: Visit Everything Dinosaur.
Win a Copy of the Book
The Everything Dinosaur "Locked in Time" book competition is free to enter. All you have to do is visit Everything Dinosaur on Facebook: Everything Dinosaur's Facebook Page and on the "Locked in Time" competition post at the top of the page, name the two fighting dinosaurs that feature on the front cover, leaving your answer in the comments section below the post.
At midnight (BST) June 17th (2021), the competition closes and shortly afterwards Everything Dinosaur will randomly select a commentator from the list and that lucky person will be sent a copy of this fantastic book.
Please note this competition has now closed.
It would be greatly appreciated if you could give the Everything Dinosaur Facebook page a "like".
Hurry, the competition closes at midnight (British Summer Time on Thursday 17th June 2021).
A spokesperson from Everything Dinosaur praised the publication, commenting that this book provided some remarkable insights into modern palaeontology and highlighted some incredible fossil discoveries.
Please note this competition has now closed.
Buy this Book!
You are most welcome to enter the Everything Dinosaur Facebook competition. One lucky entrant is going to win a copy of "Locked in Time", however, if you can't wait, then you can pick up this exciting publication at Columbia University Press here: Buy "Locked in Time" here just type the word "Lomax" into the website search box and you will be taken to the area of the site that features the books written by Dr Lomax.
Everything Dinosaur on YouTube
The Everything Dinosaur YouTube channel features hundreds of videos of dinosaurs and prehistoric animals. It provides news of forthcoming model releases, competitions, updates on research, fossil discoveries and allows dinosaur fans and model collectors to influence production runs and new figures.
Subscribe to Everything Dinosaur on YouTube: Visit Everything Dinosaur on YouTube.