Hot weather can increase the risk of landslides and rockfalls, visitors to the seaside trying to avoid the extreme heat are advised to stay away from the cliffs.
For many parts of England, Monday and Tuesday (18th and 19th of July 2022), red extreme heat warnings have been issued. Such alerts have never been issued for the UK before. Temperatures could reach as high as 40 degrees Celsius (104 Fahrenheit), although this system of alerts was only introduced last year (2021). The risk of a landslide can increase in hot weather, visitors to the beach should take care to avoid areas where there are cliffs.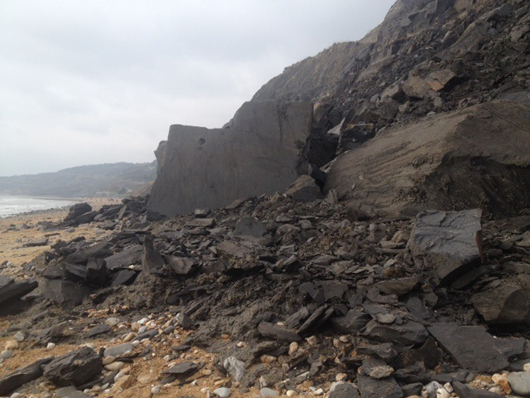 Rock Fall and Landslide Risk
In very hot weather, the risk of landslides and rock falls increases. The heating up and then cooling of rocks can increase the instability of the rock face and this can lead to a collapse. The risk of landslides after heavy rain has been widely documented. Saturated, unstable ground can collapse, however, extreme daytime temperatures can also increase the risk of landslides and rock falls.
A spokesperson from Everything Dinosaur commented:
"We do advise visitors to places such as the "Jurassic Coast" and the north coast of Yorkshire to heed the warnings about unstable cliffs. The very hot weather is likely to lead to packed beaches and we urge everyone to stay away from dangerous areas."
Landslides are common around some parts of the British coastline. Tragically, some incidents cause fatalities. In 2012, a woman was killed when she was caught in a massive landslide at Bridport (Dorset).
We urge seaside visitors to follow local advice and to avoid straying too close to the cliffs and the cliff edge when walking above the beach area.