Today, team members at Everything Dinosaur are celebrating the landmark of having achieved 6,000 blog posts. Since our first article was posted up in May 2007, a great deal has happened in the world of palaeontology. Everything Dinosaur has done its best to update and inform readers of these exciting developments. We have covered news stories, fossil discoveries, the description and naming of new dinosaur species, updates on theories and the use of new tools and methodologies in research, plus a lot more. We are living in a "golden age" of fossil discoveries and prehistoric animal research, we have, in a small way, helped to communicate some of these exciting developments and fossil finds.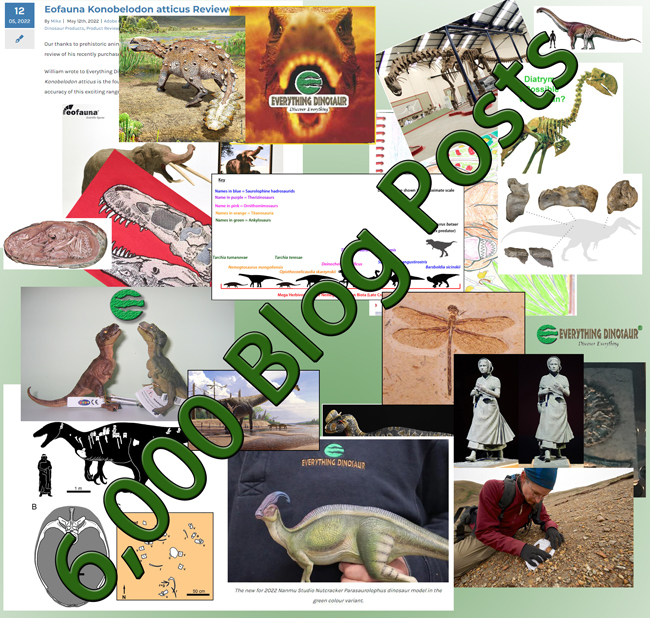 Updating Model Collectors and Dinosaur Fans
The Everything Dinosaur blog also updates model collectors and dinosaur fans. We have continued to publish reviews, exclusive images and videos of prehistoric animal replicas and we remain committed to providing as much information as we can to help model collectors build their collections.
Thanks to Our Readers
We would like to thank all our readers and blog supporters. Your comments, feedback and suggestions are greatly appreciated, our heartfelt thanks for your support over these last fifteen years.
Blog Posts
Wonder what exciting scientific developments, discoveries and new products we will be covering in the next 1,000 posts?
Everything Dinosaur stocks a huge range of dinosaur and prehistoric animal themed models, toys, plush and gifts. To view the range, visit the company's award-winning website: Everything Dinosaur.